Consultant (m/w/d) Implementierung DOMEA®-Systeme in Berlin
Berlin

Please apply here on "ITbbb.de" with the "Apply Now" link/button at the top right.

Als Consultant (m/w/d) bei Materna:
begleiten Sie die Projekte über den gesamten Projektlebenszyklus von der Presales-Phase bis zum späteren Betrieb.
implementieren Sie die fachlichen Aspekte der Schriftgutverwaltung, wie die Realisierung eines Aktenplans oder die die Modellierung von Prozessinstanztypen.
setzen Sie fachliche und technische Konzepte um, z. B. die Realisierung von Prozessinstanztypen, Dokumenttypen, Anlage und Pflege von Masken und Customizing des Object Name Generators.
arbeiten Sie in Projekten zur Einführung von Dokumentenmanagement-Systemen in der öffentlichen Verwaltung mit.
Das bringen Sie mit:
Ein abgeschlossenes Studium der (Wirtschafts-)Informatik, Betriebswirtschaft, Wirtschaftswissenschaften oder eine vergleichbare Qualifikation
Erfahrung in der Abwicklung von IT-Projekten im Government und Umfeld der Schriftgutverwaltung (Bundes- und Landesebene)
Kenntnisse der gängigen Konzepte zur Schriftgutverwaltung wie DOMEA® und/oder dem "Organisationskonzept elektronische Verwaltungsarbeit"
Kenntnisse über die technische Anlage von Organisationsstrukturen, Prozessinstanztypen wie Akten, Vorgänge usw. und der Anlage von Dokumenttypen
Kenntnisse im Skripting (z. B. Anpassung des WinDesk)
Kenntnisse in der Erweiterung des WinDesk via VB6 (OCX, DLL)
Sehr gute Deutsch- und Englischkenntnisse in Wort und Schrift
Reisebereitschaft
Sie sind neugierig geworden? Dann lesen Sie hier, was uns als Arbeitgeber ausmacht und hier, warum unsere Kollegen Materna schätzen.
Brief profile of Materna Information & Communications SE
Wir digitalisieren Ihre Welt!
Als international erfolgreicher IT-Full-Service-Dienstleister im Premiumsegment beraten und begleiten wir unsere Kunden aus der Privatwirtschaft sowie dem öffentlichen Sektor seit fast 40 Jahren in allen Belangen der Digitalisierung und liefern maßgeschneiderte Technologien für eine agile, flexible und sichere IT.
Neben unserem Hauptstandort in Dortmund oder unseren internationalen Standorten, finden unsere Kunden uns auch in Dresden oder Berlin.
Wir suchen auch abseits festgelegter Pfade neue Kollegen.
Senden Sie uns einfach Ihre Initiativbewerbung.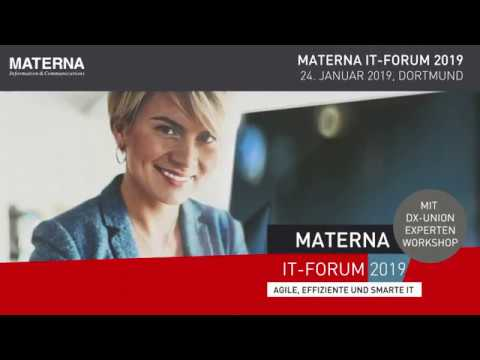 Publication date: 07-07-2020