Consultant (m/w/d) Micro Focus Service Management / uCMDB / Micro Focus Automation in Berlin
Berlin

Please apply here on "ITbbb.de" with the "Apply Now" link/button at the top right.

Als Consultant (m/w/d):

analysieren Sie die Anforderungen und Problemstellungen unserer Kunden beim Management ihrer IT-Infrastruktur und IT-Services.
konzipieren Sie optimierte Prozesse und das nötige technische Umfeld.
beraten Sie Kunden bei der Einführung oder Weiterentwicklung von Systemen und Technologien.
leiten Sie ausgewählte Projekte und sind für die termin- und aufwandgerechte Umsetzung verantwortlich.
unterstützen Sie unseren Vertrieb bei der Wahrnehmung von Kundenterminen sowie bei der Angebotserstellung.
Das bringen Sie mit:
Ein abgeschlossenes Fach- bzw. Hochschulstudium in der (Wirschafts-)Informatik, Betriebswirtschaft oder Wirtschaftswissenschaft oder eine Ausbildung mit langjähriger Berufserfahrung im IT-Umfeld
Tiefe Kenntnisse in der Implementierung, Konzeption und im Design einer oder mehrerer Standard-Plattformprodukte wie Micro Focus/HPE Service Manager oder Peregrine Service Center Micro Focus SMA-X und / oder UCMDB und / oder Micro Focus / HPE Operations Orchestration und OMi
Gute Deutsch- und Englischkenntnisse in Wort und Schrift
Reisebereitschaft
Sie sind neugierig geworden? Dann lesen Sie hier, was uns als Arbeitgeber ausmacht und hier, warum unsere Kollegen Materna schätzen.
Brief profile of Materna Information & Communications SE
Wir digitalisieren Ihre Welt!
Als international erfolgreicher IT-Full-Service-Dienstleister im Premiumsegment beraten und begleiten wir unsere Kunden aus der Privatwirtschaft sowie dem öffentlichen Sektor seit fast 40 Jahren in allen Belangen der Digitalisierung und liefern maßgeschneiderte Technologien für eine agile, flexible und sichere IT.
Neben unserem Hauptstandort in Dortmund oder unseren internationalen Standorten, finden unsere Kunden uns auch in Dresden oder Berlin.
Wir suchen auch abseits festgelegter Pfade neue Kollegen.
Senden Sie uns einfach Ihre Initiativbewerbung.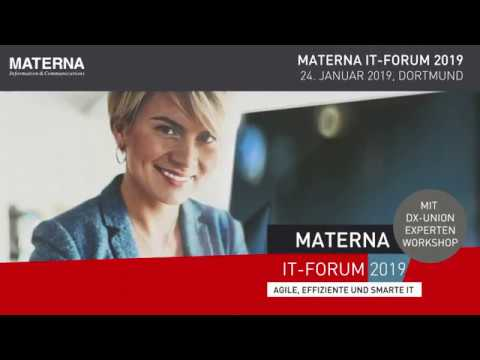 Publication date: 07-07-2020