Mit Highspeed zum zertifizierten Java-Experten (m/w/d) in Berlin
Berlin

Please apply here on "ITbbb.de" with the "Apply Now" link/button at the top right.

Java-Syntax und -Semantik kennst du bereits aus der Theorie, jetzt willst du endlich Software bauen? Du hast bereits kleinere Java-Programme entwickelt, möchtest aber der absolute Java-Profi werden? Dann haben wir das richtige Angebot für dich!
Während deines 6-Monatsprogramms wirst du von einem Paten individuell betreut und unterstützt. Der einzigartige Lernpfad beinhaltet für dich eine qualitativ hochwertige Fachausbildung durch Top-Trainer, Social Skills Schulungen und eine Zertifizierung zum Oracle Certified Associate Java SE 8 Programmer I. Nach Abschluss des Programms steigst du direkt in unsere Großprojekte ein. Du bist sofort Teil unseres Teams und erhältst vom ersten Tag an einen unbefristeten Arbeitsvertrag.
Das erwartet dich:
Du unterstützt uns nach intensiver und optimierter Qualifizierung bei Projekten als fester Bestandteil unseres Teams.
Dabei entwickelst du gemeinsam mit uns Portale, Content Management Systeme, mobile Anwendungen und Apps auf Basis von Java EE, Eclipse, Maven, JBoss und Open-Source-Frameworks.
Du nimmst Anforderungen auf und analysierst diese, implementierst die jeweiligen Applikationen und wirkst bei Architekturkonzepten mit.
Das bringst du mit:
Hochschulabschluss in (Wirtschafts-)Informatik o. ä., alternativ eine abgeschlossene Ausbildung Fachinformatik, gerne auch Studienabbrecher
Erste Kenntnisse mit aktuellen IT-Technologien, z. B. Java, JavaScript
Sehr gute Deutsch- und gute Englischkenntnisse in Wort und Schrift
Du bist neugierig geworden? Dann lies hier, was uns als Arbeitgeber ausmacht und hier, warum unsere Kollegen Materna schätzen
Brief profile of Materna Information & Communications SE
Wir digitalisieren Ihre Welt!
Als international erfolgreicher IT-Full-Service-Dienstleister im Premiumsegment beraten und begleiten wir unsere Kunden aus der Privatwirtschaft sowie dem öffentlichen Sektor seit fast 40 Jahren in allen Belangen der Digitalisierung und liefern maßgeschneiderte Technologien für eine agile, flexible und sichere IT.
Neben unserem Hauptstandort in Dortmund oder unseren internationalen Standorten, finden unsere Kunden uns auch in Dresden oder Berlin.
Wir suchen auch abseits festgelegter Pfade neue Kollegen.
Senden Sie uns einfach Ihre Initiativbewerbung.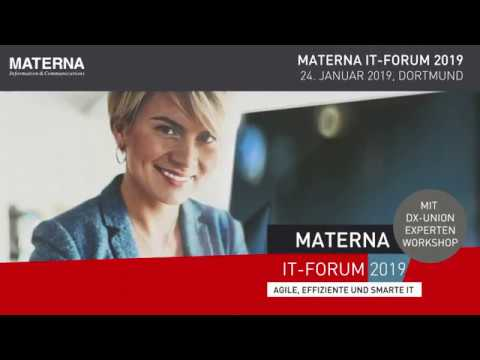 Publication date: 26-05-2020