Studentischer Mitarbeiter (m/w/d) Online Redaktion / Content Management in Berlin
Berlin

Please apply here on "ITbbb.de" with the "Apply Now" link/button at the top right.

Mit deiner Begeisterung für redaktionelle Tätigkeiten unterstützt du uns bei der Arbeit im laufenden Kundengeschäft sowie bei internen Projekten.
Als studentischer Mitarbeiter bei Materna:
erstellst und migrierst du Content für nationale/internationale Websites.
unterstützt du Kunden bei der Bedienung eines Content-Management-Systems.
begleitest du Schulungen und CMS-Trainings in der Vorbereitung.
erstellst du Blogbeiträge, Newsletter oder Fachbeiträge.
Das bringst du mit:
Fortgeschrittenes Studium im Bereich Informatik oder in einem vergleichbaren Studiengang
Erste Erfahrungen in einer Online Redaktion oder im Redaktionssupport
Erfahrung im Umgang mit einem Content-Management-System
Souveräner Umgang mit den gängigen MS Office-Programmen
Sehr gute Deutschkenntnisse sowie sehr gute mündliche und schriftliche Ausdrucksfähigkeit
Du bist neugierig geworden? Dann lies hier, was uns als Arbeitgeber ausmacht und hier, warum unsere Kollegen Materna schätzen.
Brief profile of Materna Information & Communications SE
Wir digitalisieren Ihre Welt!
Als international erfolgreicher IT-Full-Service-Dienstleister im Premiumsegment beraten und begleiten wir unsere Kunden aus der Privatwirtschaft sowie dem öffentlichen Sektor seit fast 40 Jahren in allen Belangen der Digitalisierung und liefern maßgeschneiderte Technologien für eine agile, flexible und sichere IT.
Neben unserem Hauptstandort in Dortmund oder unseren internationalen Standorten, finden unsere Kunden uns auch in Dresden oder Berlin.
Wir suchen auch abseits festgelegter Pfade neue Kollegen.
Senden Sie uns einfach Ihre Initiativbewerbung.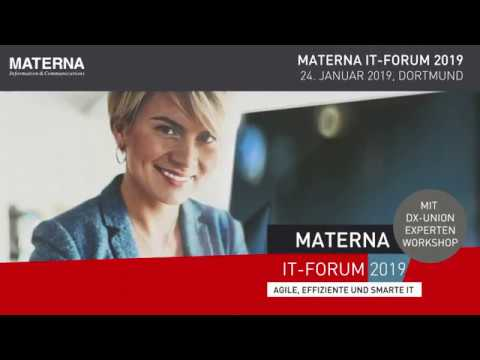 Publication date: 02-06-2020