Consultant (m/w/d) Business Process Management in Berlin
Berlin

Please apply here on "ITbbb.de" with the "Apply Now" link/button at the top right.

Als Consultant bei Materna:
übernehmen Sie in unseren Kundenprojekten (z. B. Neu- und Weiterentwicklung von Fachlösungen) Aufgaben der konzeptionellen Vorbereitung und im systematischen Anforderungsmanagement.
erstellen Sie formale Dokumentationen von Anforderungen in mittleren und großen Projekten.
analysieren, bewerten und priorisieren Sie die entsprechenden Anforderungen.
entwickeln Sie Fachkonzepte für neue Lösungen und unterstützen unsere Kunden bei der Einführung oder der Integration von Standardlösungen (z. B. Dokumentenverwaltung, Formularmanagement).
führen Sie Workshops und Schulungen durch und stellen die Qualität in der Konzeption sicher.
Das bringen Sie mit:
Erfolgreich abgeschlossenes Studium der (Wirtschafts-) Informatik oder eine vergleichbare Ausbildung
Praxisorientierte Erfahrungen mit Schwerpunkt Prozess- und/oder Anforderungsmanagement
Wissen über Techniken und Tools im Anforderungsmanagements
Kenntnisse in BPMN und DMN
Kenntnisse in XML sowie der Spezifikation von XML-Schemata
Sehr gute Deutsch- und gute Englischkenntnisse in Wort und Schrift
Sie sind neugierig geworden? Dann lesen Sie hier, was uns als Arbeitgeber ausmacht und hier, warum unsere Kollegen Materna schätzen.
Brief profile of Materna Information & Communications SE
Wir digitalisieren Ihre Welt!
Als international erfolgreicher IT-Full-Service-Dienstleister im Premiumsegment beraten und begleiten wir unsere Kunden aus der Privatwirtschaft sowie dem öffentlichen Sektor seit fast 40 Jahren in allen Belangen der Digitalisierung und liefern maßgeschneiderte Technologien für eine agile, flexible und sichere IT.
Neben unserem Hauptstandort in Dortmund oder unseren internationalen Standorten, finden unsere Kunden uns auch in Dresden oder Berlin.
Wir suchen auch abseits festgelegter Pfade neue Kollegen.
Senden Sie uns einfach Ihre Initiativbewerbung.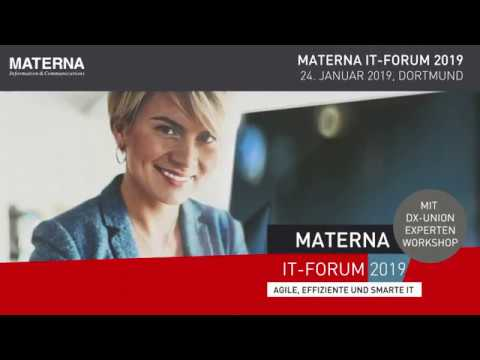 Publication date: 21-10-2019