forcont erneut mit Bonitätszertifikat CrefoZert ausgezeichnet
Thu, 17 Dec 2020 10:00:00 +0100
Digitale Kompetenz und hervorragende Bonität: Die forcont business technology gmbh wurde zum zweiten Mal in Folge von der Creditreform Leipzig Niedenzu KG mit dem Bonitätszertifikat CrefoZert ausgezeichnet. Grundlage des umfangreichen Zertifizierungsverfahrens sind die aktuelle Unternehmensbilanz, die Creditreform Wirtschaftsauskunft mit dem Bonitätsindex und spezifische Kennzahlen zur Entwicklung und den Perspektiven des Unternehmens. Erneut konnte forcont überzeugen und mit der Zertifizierung ihre finanzielle Leistungsfähigkeit und den soliden unternehmerischen Entwicklungskurs belegen.
---
Other current blog posts of the organization
forcont business technology gmbh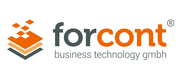 forcont ist ein modernes und hochprofessionelles Softwarehaus. Unser Ziel ist es, einer der führenden SaaS-Anbieter für Enterprise Content Management in Europa zu werden. Bereits heute nutzen mehrere tausend Business-User unsere Cloud-Services. Für unsere Kunden arbeiten wir täglich daran, unsere Produkte und Dienstleistungen zu verbessern, damit geschäftsrelevante Daten und Dokumente zu jedem Zeitpunkt, an jedem Ort und auf jedem beliebigen Endgerät zur Verfügung stehen können. Für diese Arbeit suchen wir Mitarbeiter, die so wie wir bestrebt sind, den Markt anzuführen - mit kreativen Ideen, neuesten Technologien und einem Höchstmaß an Qualität.